Valentines Day Recipes Your Coffee Lover Will Moan Over.
LOVE MUFFINS
Ingredients:
1/2 cup freshly brewed
TROPICAL KISS gourmet coffee
1 Tablespoon baking cocoa
3/4 cup sugar
2 Tablespoons sugar
1 2/3 cup flour
1 teaspoon baking soda
1/4 teaspoon salt
1/4 cup butter
2 eggs
2/3 cup sour cream
1/2 cup chopped macadamia nuts
1 oz. white chocolate chips
1 oz. semi-sweet chocolate chips
Directions:
Preheat oven to 400 degrees. Grease muffin tins (or line with baking papers).
In a small saucepan, bring
Boca Java coffee
to a boil. Add 3/4 cup sugar and stir until dissolved, then continue boiling over medium heat for 4 minutes without stirring. Remove from heat and cool.
Combine flour, baking powder, baking soda and salt in small bowl. Set aside.
In a large bowl, cream butter with 2 Tablespoons sugar until fluffy. Add eggs and beat well. Add coffee mixture and beat until blended. Fold in half of the dry ingredients using spoon or spatula. Fold in sour cream. Add remaining flour mixture. Stir in nuts and chocolate.
Fill muffin tins 3/4 full then bake 15 to 17 minutes.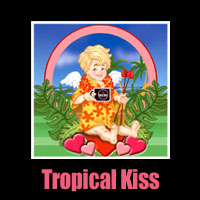 Tropical Kiss
Take a trip to the tropics with this tantalizing coffee blend that is kissed with coconut and chocolate!
SINFULLY DELICIOUS DEVILS FOOD CAKE
Ingredients:
1 package Devil's Food cake mix
1 cup sour cream
2 Tablespoons
Boca Java Double Mocha cocoa
1 cup vegetable oil
1 cup brewed
COURTSIDE CHOCOLATE gourmet coffee
(chocolate, coconut)
3 eggs
1 tsp. Vanilla extract
Directions:
Heat oven to 350 degrees.
Grease and flour cake pan, using cooking spray or oil. (Shake out any excess flour.)
In a large mixing bowl, combine all ingredients and blend on low, scraping sides of bowl. Mix at medium speed for 2 minutes.
Pour batter into prepared cake pan and bake until cake springs back when touched and toothpick inserted into the center of cake comes out clean.
Remove cake from oven and cool on a wire rack for about 20 minutes.
Luscious
German Chocolate Cake flavored coffees
! The sensational taste of chocolate cake with a hint of coconut frosting will surely make you fall in ''love.''
White Mocha Blizzard
Get Caught Up In Our Blizzard with Boca Java's scrumptious, White Mocha Blizzard, a creamy White Chocolate cocoa.
Mocha Mint Ocean
What do you get when you combine a rich Chocolate with the fresh taste a Peppermint? A hot chocolate that is out of this world! Mocha Mint Ocean is the cocoa for you! Voted one of our staff's favo
Double Mocha Dream
Relax over a nice hot cup of rich and creamy Double Mocha Dream gourmet hot chocolate. Double the chocolate for double the pleasure. Unlike any hot chocolate you have experienced, this is sure to please the palate.
Berry Mocha Kiss
This love inspired cocoa features two love birds on the canister, which is a tell tale sign that Berry Mocha Kiss is a sweet, delicious combination of Raspberries and Chocolate! This will become a new favorite!
coffee
coffee recipes
valentines day
valentine recipes
valentines recipes
coffee cake recipes
valentines day recipes